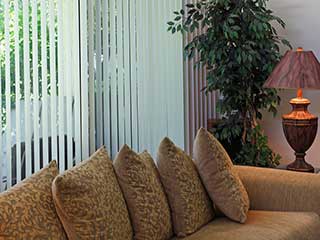 Any set of multi-paneled window treatments whose panels point upward instead of sideways can be called vertical blinds. This style of covering works for a lot of windows, doorways, and other apertures where the more common types have issues. However, they aren't any more complicated to use, and in some cases might even be easier to install. Motorized Window Shade - Redwood City provides custom made shades, blinds, and other window treatments for rock bottom prices all around Redwood City.
Why Vertical Blinds?
Most windows are taller than they are wide, which means that horizontal panels are the easiest to fit for them, and the most sturdy. For windows and doorways that are wider than they are tall though, it works the other way. Long openings, such as wall-length windows or sliding doors, can be almost impossible to cover with any other sort of blinds! Since they share the same sort of habitat, vertical blinds with curtains are a popular combination. Some thin curtains or shades can filter the sunlight when the blinds are open, giving you more choices in how much to let in.
Where To Put Vertical Blinds?
Any room with a long, large opening could use some of these window treatments. Offices, bedrooms, and kitchens are some of the most likely rooms to have such apertures, but they aren't the only ones that can! Living rooms and decks can use vertical blinds for sliding glass doors. Bathrooms and hallways sometimes have long, low windows that use them as well. Vertical blinds for offices and other workplace settings have an extra benefit. By sliding the blinds half closed, you can shield waiting areas, computer screens, and desks from the sun while still letting light into the room.
Custom Vertical Blinds Options
Every order of horizontal or vertical window treatments from Motorized Window Shade - Redwood City includes first a free estimate and consultation session. When helping you design vertical blinds for windows in your home or business, we take your preferences, needs, and budget into account. We can make our custom blinds out of wood, aluminum, or synthetic materials like vinyl, and it's all in your choice of color and frame style. For the most reliable and convenient solution, we can also set you up with some motorized vertical blinds. With these timer, sensor, or remote-controlled units, you'll never have to get up and walk over to adjust your window coverings again. With the timer and sensor options, you won't even need to remember them!
Vertical Blinds Installation In Redwood City
After our team has given you your quote on the new set of custom window treatments, you let us know how to proceed. If you say yes, we get to work bringing those designs into reality. When we're finished making your new vertical blinds, we'll schedule a follow-up visit at your Redwood City address to get everything installed. This applies to both regular and motorized vertical blinds. We always make sure to carry out the installation of the new blinds to ensure they work correctly from the jump.
New Blinds For Doors & Windows
You'll find that vertical blinds have a lot to offer in terms of versatility. From wooden and metal vertical blinds to blackout and motorized options. Any choice you want, we can custom-craft to create the vertical window treatments (and sliding door blinds) that meet your taste and budget. Give us a call today to set up a free consultation appointment at your Redwood City residence or office.