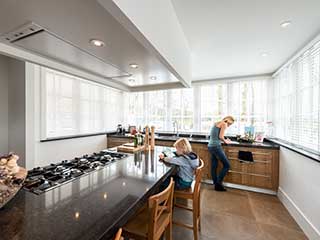 Window treatments come in a diverse variety of styles, sizes, and designs, suitable for different rooms and needs. Venetian blinds are some of the easiest treatments to install and use, and to replace in the event of damage. Since they hang down over the windowpane instead of having a frame, Venetian blinds are lightweight and flexible. Homes and businesses all over the Redwood City area sport custom-made sets on their windows and glass doors.
Redwood City Home & Office Venetian Blinds
Because of their low cost and ease of installation, Venetian blinds can work in just about any window or glass door. Got a bedroom to keep dark, or a gallery full of sensitive furniture? Blackout Venetian blinds are a great option that lets you filter or eliminate the sunlight at will. What about a long window, or a room that you need to shade only part of at a time? Hanging vertical Venetian blinds on an overhead rod will take care of it. With their unassuming, low-volume structure, you can customize these window treatments to complement any home or workplace aesthetic. In fact, crafting each set of blinds for the customer's specific needs is our specialty!
Custom-Designed Venetian Blinds For You
Before making a new set of Venetian blinds for windows or doors in Redwood City, we send our design team to the customer's address. With their professional eyes, they can help you pick the best options for your new blinds, getting you the greatest benefit for the lowest cost. Color, panel design and housing, and materials are all up for the choosing. We can also install automatic Venetian blinds with remote or computer controls.
Choose Classic Venetian Blinds Materials
Wooden Venetian blinds are the original flavor, and they never went out of style. They might be heavier than most of the alternatives, but they're wonderful decoration and can provide a blackout effect with the right panel dimensions. Steel, aluminum, and other metal Venetian blinds have a more modernist aesthetic and are lighter and more durable. Aluminum is also a great option if you're worried about moisture and water damage. Redwood City Venetian blinds need to suit the climate, therefore choosing the right materials for your region is important.
Functional Modern Materials
Want the decorative value of wooden blinds in your Redwood City home without the expense, weight, or fragility? Some well-made faux-wooden Venetian blinds should hit the spot! Composite or plastic materials can be among the lightest or heaviest options, depending on which one you choose. In all cases, they're low maintenance, hold their colors well in the long term, and quick to produce. If you want some bright white Venetian blinds, pastel-colored vanes, or decorated sets, this is the way to go!
Electric Venetian Blinds in Redwood City
Automatic window treatments, Venetian-style or otherwise, have several advantages over the old fashioned kind. The most obvious is their convenience. Instead of walking all over the building to adjust every set of vanes by hand, you can just press a button from the room entrances. If you order a timer or sensor-equipped motorized Venetian blinds, you won't even need to remember at all after the initial programming! Second, the cords that most traditional Venetian blinds use can be hazardous for pets and young children. Motorized window treatments solve that problem without complication. Ask us about motorized Venetian blinds for your windows and doors to learn more.
Get With a Free Consultation!
Call Motorized Window Shade - Redwood City and have a professional come to your office or home to provide a free estimate. We offer our in-person consults to all surrounding parts of the bay area, so feel free to get in touch with us from anywhere nearby. See the varied selection of Venetian blinds designs and materials you can choose and pick a custom set that works for your needs and budget!