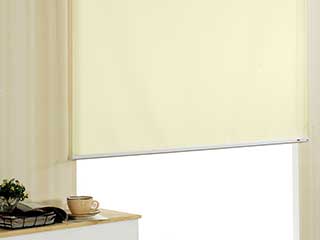 Welcome to our product page for the best blackout blinds in Redwood City! You can have our window treatments custom made to suit your purposes, and delivered and installed anywhere in city limits. Blackout blinds provide the best combination of protection, comfort, and aesthetics, and they're very easy to use. We let you take part in the design process to make sure it does what you need it to do, and our unbeatable prices!
Window Blackout Blinds
The dimensions of your window are the most important factor when it comes to designing your blinds or shades. Long, low blackout blinds for office windows should probably have vertical panels and perhaps a sliding frame. If you have a large window opening onto an office suite or waiting room, some countermeasures against the sun would be wise. You don't want sunlight glaring right into computer screens and waiting clients' eyes! Living room, bathroom, or bedroom blackout blinds will more likely have horizontal panels. Bedrooms, in particular, are rooms that benefit from this type of window treatment. There's no way the sun or outside distractions can disturb your sleep through these, and they protect your privacy.
Blinds Custom-Fit For Doors
Transparent glass doors can get even more out of these light-proof coverings than most windows. Since glass doors tend to have a lot of surface area, very strong sunlight can jeopardize a lot of furniture, carpeting, and air temperatures. A ground-level glass door, in particular, can also give thieves and home intruders ideas if they're easy to see through at all times! Blackout blinds for French doors, if well designed, won't get in the way of usability at all, and can even add to their aesthetics. Sliding glass doors for patios, and decks have a ton of surface area to cover, and there's already a set of tracks for them. Laying another line of tracks right alongside them for some sliding door blackout blinds is easy, and the result is much homier than installing a solid shutter!
Redwood City Custom Blackout Blinds Installers
You might wonder what we mean when we keep saying "custom" window treatments. In short, every choice of window treatments from Motorized Window Shade - Redwood City includes a free consultation visit before you place an order. Our interior design experts will help you make the best decisions on color, texture, and materials, as well as structural and budgetary concerns. First, we'll help you design the ideal custom blackout blinds (or other coverings) for your needs. Then, once you've gotten your free quote, our manufacturing team gets to work! Our blinds installers will then return to carry out the setup process.
Advances Motorized Blackout Blinds
Color, frame style, and texture aren't the limits of what we can do with these light-proof blinds. If you need blackout blinds for skylights, ceiling windows, or other unusual openings that aren't in a vertical wall, we have experience! Ceiling windows, in particular, need good coverage, or strong noon sunlight can ruin your room's contents and gloomy rain can hurt the atmosphere. We can also build you a set of motorized blackout blinds, with remote or computer controls. Automatic blinds are the most convenient and the most reliable option. After manufacturing, our blinds installation process includes programming and remote setup with Wi-Fi.
Get Started With a Free Estimate
Add blackout blinds to any Redwood City home, business or other by calling to schedule a free consultation. Have an expert from Motorized Window Shade - Redwood City meet you at your local address to show you our selection of blackout window treatments suitable for doors, skylights and more. Long-term warranty, custom shading products – perfect for privacy and LCD screens. Learn more by booking an appointment.