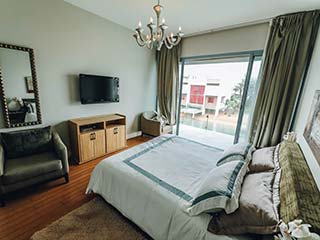 When choosing new shading solutions for Redwood City windows, curtains and drapes offer a lot of advantages in aesthetic and some in utility. White blackout curtains keep bathrooms private and living rooms comfortable and cheery. Short curtains and semi-transparent blinds let too much sunlight into a bedroom for good early-morning sleep, but blackout draperies extend the night for you. Blackout window curtains are the most protective coverings you can get for a glass pane short of walling it off behind ugly shutters. They are as airy and flexible as any other cloth hangings; the only difference is the reflective acrylic sandwiched between the cloth layers. With the options available for motorized blackout curtains and multipart window covering arrays, you can make remote control draperies anything you want them to be!
Blackout Draperies Or Short Curtains?
In bathrooms, kitchens, and workshops, long blackout window curtains can be a liability. Some short curtains tailored to fit the window frame and barely more than that are better here. Shorter blackout window curtains let you enjoy your privacy and keep sunlight off the wallpaper without getting in the way. For bedrooms and living rooms, as well as glass doors leading onto porches and balconies, long drapes are a more luxurious option. On top of making a decorative statement, blackout draperies are scientifically proven to improve sleep when you mount them over bedroom windows. Whichever style of curtain you're thinking about, it's important to match the color to its room's aesthetic. In either option, motorized curtains with smart Somfy controls give you special features worth considering.
Motorized Blackout Curtains With Smart Controls
A lot of the work a good window treatment can do for you happens in the middle of the day. Unwanted heating, bleached furniture and wallpaper, and stuffy air aren't fun. Well, blackout window curtains are one of the best defenses. If you choose motorized blackout curtains, adjusting them for the sun throughout the day becomes much easier. With smart remote controls, you can even have your curtains adjust themselves when there's no one home to do it. Motorized blackout curtains with Lutron or Somfy smart controls save you money in the long run. Both by preventing sun damage and unwanted heating, and by hiding your house's contents from view when the streets are busy. Motorized draperies have become hugely popular for Redwood City area businesses as well as residences. Combined with Somfy motorized controls, you get a fantastic bargain on aesthetic and functional shading solutions.
Redwood City's Best Custom Made To Measure Blackout Window Curtains
The "blackout" in the name can give the wrong impression. Blackout window curtains come in all colors, including patterned, embroidered, and embellished units. With custom-made window curtains for Redwood City properties, you have the final say in color, material, and decoration, as well as length and accessories. This is also where you can think about combining blackout window curtains with other treatments, like blinds, shades, or lighter curtain layers. Having a couple of different layers to adjust lets you shut the sunlight out completely with your blackout draperies, or filter it with the secondary window treatments. Purely aesthetic features, like draperies with valences or curtains with tails and trims, are also available choices.
Free Estimates For Blackout Curtains and Draperies
Let us have a look at your windows, and you can get our recommendations and estimates for zero cost. With the latest technological advancement, motorized curtains and drapes, blackout or sheer, offer amazing shading solutions to homes and businesses, and more. You can add to the décor as well as the functional sunlight control. Thinking of adding blackout curtains to Redwood City area windows in your home or office? Call and schedule a free consultation! We'll help you customize the best blackout window curtains and draperies for your needs!