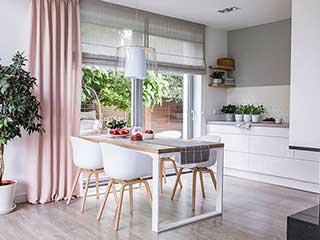 Some of our most sought-after custom made Redwood City products are Roman shades. What are Roman shades, you might ask? These fabric window shades are made with many loops of string or semi-rigid panels inside so that they fold into pleats when you open them. Most of these pleated shades have a flat bottom like other shades, but some, like "relaxed" Roman shades, have elegant curves or tails. These window treatments are quite the sight, and also go well with decorations, embellishments and secondary shades or curtains.
Roman Coverings For Any Redwood City Window Or Door
Almost any window can host some Roman shades. That said, the best places for them are in tall, narrow windows, so that there's plenty of space at the top. Unlike roller shades or collapsible blinds, Roman=style coverings take up a little upper pane space for their pleats even while open all the way. Roman shades for French doors are another popular use, as are Roman shades for sliding doors. In general, any wall fixture or opening that's taller than it is wide is ideal for these shades.
Roman Shades For Bathrooms And Kitchens
Bedrooms, living rooms, and parlors are the classic rooms for this style of window treatment. However, Roman shades for bathroom windows are also viable if your bathroom is large and airy. They can give it a nice elegance with very little effort. Kitchen Roman shades can fit some decoration schemes. For windows near sinks and other running water sources, you'll want shades made from nylon, plastic fiber, or some other waterproof material. A white or pale yellow color scheme tends to complement bathrooms the best, while Roman shades for kitchen windows could be louder. Our consultants will help you pick the best color scheme of Roman shades for any room, at any address in or near Redwood City!
Stylish Motorized Window Shades
Roman shades might look intricate, but they're simple enough to use as a base for many other features. You can also get them made with draperies of varying sorts. Roman shades with curtains are a classic choice, especially if you add some lace valences and trim as well. You can also put window shades over some thin roller shades or rigid blinds, to combine maximum beauty with maximum light control. Tails, slits, and tassels go well with Roman shades, as does embroidery. If you want to avoid window cords that could threaten pets or children, Motorized Window Shade - Redwood City has ways around them. Try our cordless magnetic Roman shades. For the best in both safety and convenience, we can also set you up with motorized Roman shades controlled by button, timer, or sensor.
Free Estimates On Roman Shades In Redwood City
You can call Motorized Window Shade - Redwood City to arrange for our design and decoration experts to pay you a visit for a free consultation. Get a free quote on your desired type of Roman shades or other shading products. We can start making them as soon as you decide. When your Roman shades are ready, we provide delivery and installation services all throughout Redwood City and all nearby areas. For motorized shades, this includes remote control and computer installation, setup, and programming. Window shades are cheaper than ever and available in almost infinite variety. Give us a call to schedule a free quote and have your new Roman shades custom made!