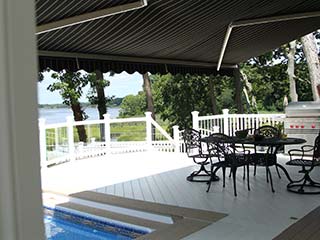 The problem with outdoor spaces is that they are, in fact, outdoor. Without some protection overhead, the weather poses a threat to most furniture materials you'd want to use out there. When the sun is bright, sitting outside on the porch unpleasant, to say the least, and there's the risk of sunlight bleaching your patio tables and chairs. Solving these problems is easy, and cheap, with our custom-made patio covers and outdoor shades. From simple sail shades to sophisticated remote control canopies, we design, deliver and install motorized patio covers for Redwood City area customers. Use our years of experience and new design collections to find the ideal outdoor shading solutions for your needs.
Freestanding Patio Shades
Canopies and pergola-cover style shades are good for large areas, or outdoor spaces that aren't near a standing structure. These freestanding patio shades have their own stakes, frames, or pylons that let them stand up above the ground or flooring. If you want to minimize the amount of ground space taken up by the supports, motorized units can help with that. Motorized patio shades standing on freestanding mounts either extend their canopies along rollers or rotate them into place from a single line of mounts. If you have a very large space to cover that extends from a building's side, hybrid freestanding shade and awning style is an option.
Classic Or Motorized Awnings
Hanging shades and awnings are what most people probably picture when they hear the words "patio covers." Awnings either fold out from the upper wall of a building or roll along a static or adjustable frame. These are the most efficient style of patio cover for smaller outdoor spaces, or ones enclosed on multiple sides. Motorized awnings are perfect if you have a Redwood City storefront or outdoor seating area that you need to adjust quickly for the weather. They can also save you trouble if you have children playing outside during quickly changing weather conditions.
Sail Shades And Patio Window Covers
Some outdoor shades are more vertical than not, even when you have them extended. Sail shades, for instance, are canvass sheets that stretch diagonally from the side of a building to an attachment point nearer to the ground. These shades are a little cumbersome to set up but great for saving space and fitting into unusually shaped outdoor spaces. If you have a semi-enclosed patio or balcony with a roof and partial walling, you might also just choose to mount window-style shades in it. Motorized patio shades made for vertical wall spaces or window frames have as much variety as typical window shades.
Pop Up Canopy Tents
These outdoor covers are exactly what they sound like; large tents that you set up over a patio or yard. Canopy tents are perfect for medium to large-sized spaces. Depending on how enclosed the space is, you can order a custom-made canopy tent with anywhere from one to four sides as well as an overhead covering. Pop-up canopies are movable, and manually raised, but some units are also easier to adjust once in place. Finding canopy tents for Redwood City properties can become easy and fun with a consultation from our experts. Motorized patio shades that make up the top of a pop-up canopy, pergola style, are completely doable! And you can choose the design and remote control features you want.
Motorized Patio Covers – Redwood City's Best Source
Improve the aesthetic as well as the functional sunlight protection in any outdoor space. With our made-to-measure motorized patio covers and awnings, you can add shading solutions to any outdoor lounge in the Redwood City area. Contact our team to learn more about motorized patio shades, outdoor canopies, or any other kind of patio cover. Free estimates are offered on everything!