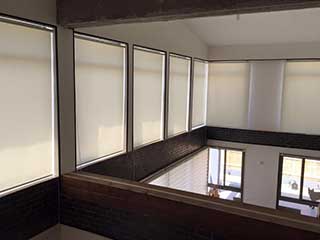 Motorized window treatments offer you convenient remote control over sunlight from virtually anywhere. For years, we've been making custom-made motorized blinds of all styles. We value customer satisfaction and good word of mouth, so you can get a free estimate and consultation before any order. Motorized blinds aren't just convenient. They can make your home and workplace management more efficient, and even save you money! Read on, and decide if our custom made motorized window coverings are for you.
Motorized Blinds Installation
We provide delivery and setup services throughout Redwood City and all other areas nearby. During the complementary consultation session, our interior design experts will help you choose the style of electric blinds that best suit your windows. There are many styles of motorized blinds to pick from, with the window dimensions and the room's color scheme affecting your choice. Wall windows and sliding glass doors should get curtains or motorized vertical blinds. If the room needs extra protection or privacy, try asking about blackout panels or fabrics. With products from Somfy, Lutron, and other trusted manufacturers at our disposal, we can design any sort of motorized blinds that you want!
Remote Control Blinds
The best part of motorized blinds is being able to open and close them from afar. With wifi and smartphone connectivity, you can even manage them without being home yourself! Blinds with modern remote control systems can also interface with household management systems. Alexa or Google Home can now adjust your blinds and protect your furniture and climate! Order yours with some Lutron light or thermal sensors. Now, your motorized window treatments can even operate themselves! Motorized Window Shade - Redwood City provides remote control setup, sensor installation, and Wi-Fi calibration with each set of motorized blinds. We service all surrounding Bay Area regions, so feel free to call us from any local address.
Motorized Blackout Blinds
If you want to keep a room very dark and protected without making it stuffy, these motorized window treatments are the way. The name can be misleading. Blackout blinds don't have to be black and can be any color you choose. What makes them "blackouts" is being completely proof against sunlight while closed. Motorized blackout blinds let you switch between bright illumination and total privacy at the press of a button. You can introduce better privacy to a Redwood City bedroom or office space with blackout blinds motorized for your convenience.
Vertical Blinds, Motorized For Glass Doors
Most blinds are made from horizontal panels that stretch across the window frame left and right. If you have longer windows or glass doors to cover, vertical blinds might be the motorized window treatment for you. Fitting unusual window geometries isn't the only perk here. These blinds open sideways, and you can adjust them to cover part of the room while letting light in elsewhere. Motorized vertical blinds make for perfect solutions for patio doors and office window walls all over Redwood City and the surrounding parts of the San Francisco bay area. Find out more about the options by scheduling a free estimate.
Automatic Venetian Blinds
Sometimes you need something more substantial than roller covers, but lighter and less bulky than rigid window treatments. Venetian blinds fill a happy middle ground between blinds and shades. If you have a long window or delicate room, they come in vertical and blackout Venetian blinds varieties as well. Motorized Venetian blinds are some of the easiest remote control blinds to install, and to maintain. You can have them made from metal, wood, vinyl or other materials. Consult with our professionals to see all the available choices.
Motorized Roller Shades
If motorized Venetian blinds are still too rigid and obstructive, there are always other types of motorized window treatments. As long as you have a little bit of space on the wall above your window, roller shades make an easy fit. Unlike blinds, these treatments are made of fabric or other flexible materials, like our Somfy blinds control selections. They are often semi-transparent, but blackout shades are also an option! We can set you up with some motorized roller shades at any nearby bay area address, with all the same options and features as our blinds.
Redwood City Motorized Blinds Sets
Be a part of the design process for your own custom motorized blinds or shades by booking a free consultation at any local address. Motorized Window Shade - Redwood City provides a complete range of options for electric blinds and motorized window shades, suitable for a variety of décors. Give us a call to schedule an appointment on any day of the week.