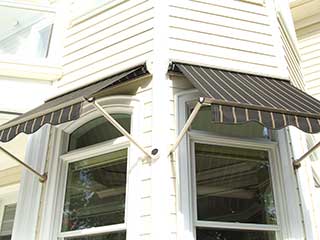 Somfy automatic blind systems are amongst the best on the market. Thanks to smart remote control window shade solutions like these, it's easy to create naturally diffused sunlight and improved climate control in your interior spaces. The sweeping range of designs and the cutting-edge remote control options from Somfy provide the widest array of choices around. This all comes at the trademark Somfy blinds high quality and a great price point. In the Redwood City area, our Somfy blinds installers give you an easy way to improve your home or business premises.
Cover Large Windows With Rolling Shutters
Rolling shutters give any property a secure, comforting feel, and are popular for use on large wall windows. Motorizing these high-quality window coverings makes it incredibly easy to use them because it only takes the tap of a button or the press of a switch to roll the shutters down. Silent motors make this even more convenient because they won't disturb anyone to raise or lower the shutters. Thanks to the high durability of the components, rolling shutters are also a great choice from a security point of view.
Smart Window Shades and Blinds
There's no limit to what you can do with Somfy motorization options. Add these smart systems to classic Roman shades and Venetian blinds to get classic appeal with modern convenience. You can control these window coverings with your smartphone or even your voice, thanks to WiFi connectivity that lets you link them with your home smart system. Use a range of different fabrics to create the exact effect that suits you. If you want a soft, diffused ambiance, then sheer fabric shades are a great choice. If it's better sleep or privacy that you're looking to create, then blackout material is a wise option to pick. Somfy motorized blackout blinds, for instance, cut out all unwanted sunlight and let you darken the room no matter what it's like outside. And with motorized Somfy blinds, you can control them directly from the bed, and there's no need to get up!
Smart Canopies and Patio Covers
Somfy offers plenty of outdoor solutions as well, with the same high level of quality. Gain protection from bright sunshine with motorized awnings. This provides a lot of utility and keeps you and your loved ones from UV radiation exposure. Rolling pergola screens with motorized components are the last word in utility, and also look great in your backyard. Redwood City patios and decks benefit hugely from Somfy motorized blinds and shade systems and are a smart addition to any property.
Quality Somfy Motorized Shades In Redwood City
Our specialists are ready to help you discover the right motorized blinds or shades for your property. Whether it's an office, a gym, an apartment, or a large house, Somfy motorized blinds are the perfect way to upgrade your home or business. Speak with our Redwood City blinds installers for a free consultation and a no-fee quote on Somfy window coverings for your business or home.