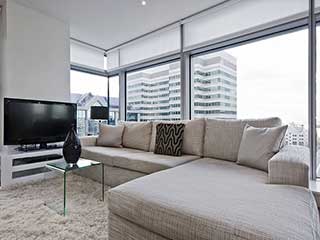 Whether you need something for a small apartment or a large home with many windows, roller shades can work for your needs. One of our most versatile and beloved styles of window coverings, they can fit any aesthetic without hassle. From sheer to blackout roller shades, you've got a variety of choices for residential or commercial properties anywhere near Redwood City.
Sheer Roller Window Covers
Nobody should have to choose between enjoying sunlight indoors, or the safety of their furniture! With our beautiful sheer roller window treatments, you won't have to. The semi-transparent fabric comes in an array of lovely colors and will filter sunlight through to stop the usual negative effects of too much direct sun. Rather than find your furniture damaged and drained of color due to the sunlight, or have your home heating up and wasting energy by causing your AC to run, you can prevent both with sheer roller shades. They look warm and soothing as well, making them excellent for guest bedrooms or front rooms.
Motorized Roller Shades For The Redwood City Area
Not only are manual strings on window coverings easy to tangle, but they can also become a hazard to kids and pets. That's why many Redwood City customers choose motorized roller shades to put themselves in complete control with ease. You can choose from different remote control methods for the utmost convenience, as well as different power sources. Motorized roller shades can connect to Wi-Fi, letting you control them with smartphones or tablets. You can have them wireless or wired, with brightness sensors or classic remote control handsets.
Blackout Window Shades – Complete Lighting Control
Being able to completely block out any outside light as needed in your Redwood City home can provide a lot of benefits. One of the most important contributions that blackout roller shades can make is allowing you to rest more easily. Whether you have someone in the home who works late shifts and needs to sleep during the day or a newborn that needs darkness to rest in at a moment's notice, blackout roller shades can help you darken any room. They can also improve your TV watching experience by preventing glare with certainty, and more. Plus, with blackout roller covers, you can improve privacy with ease.
Redwood City's Best Roller Shades Custom Made
Window coverings allow you to upgrade and transform interior décor with simplicity and ease. Our selection of designs for roller shades allows Redwood City residents and customers from nearby areas to pick a variety of styles to complement all sorts of rooms. The utility of motorized roller shades makes them an excellent choice for office spaces and homes all over the Bay Area. Book an appointment and get a free estimate by consulting with a professional from Motorized Window Shade - Redwood City in-person.