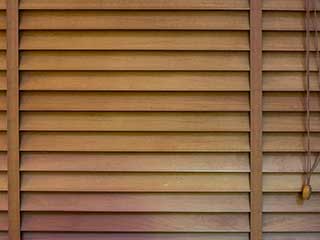 The qualities of wood make it highly sought out for blinds for windows. But its downsides make it less than ideal for different types of purposes. We here at Motorized Window Shade - Redwood City provide local homes and businesses with the quality faux wood window blinds at the best prices around San Francisco. Our custom products are built to suit your needs and no-one else's, so no matter what you're looking for we can provide it. Our prices stay low across the board, making it easy to invest in high-quality custom faux wood blinds. With our in-person consultations at your workplace or home, you can be sure that you're getting the perfect products that match your requirements down to the last detail. Find out about the impressive range of products that we offer throughout the Redwood City area. How? By setting up a free in-person estimate at your local home, office or other property.
Motorized Faux Wood Blinds Custom Made
Quality-built motorized window treatments allow you to quickly add convenience to any part of your Redwood City residence or office. You'll be stunned at the difference our motorized faux wood window blinds make to your daily life. Being able to easily adjust the window coverings with just a tap on your smartphone, or a press of a button makes a room much more comfortable. Cut out glaring sunlight without getting up, and easily adjust faux wood blinds in hard-to-reach areas. Our flexible motorized blinds come with full customization options, including wired and wireless power choices. Choosing faux wood textures for the blinds makes them wonderful for improving décor. The elegance that wood has usually comes with extra maintenance. But not with faux wood treatments!
Quality Wood Texture Look at Affordable costs
Have you ever looked at beautiful wooden window treatments and figured they're out of your budget? Well, with our spectacular range of custom faux wood blinds at low prices, you don't have to dream anymore. We stock a huge range of wood grain texture blinds, and you can choose everything from the size of the vanes to the color they're finished in. Total control means you can get any effect you want, so our faux wood blinds are suitable for workplaces and homes. Long-lasting style is always a great investment, and at our affordable prices, it's easy to see why faux wood blinds are a popular choice. Beauty often comes with a hefty price tag. But not this time! One of the main attraction points of faux wood blinds is their affordability. You can get these beautiful coverings custom made (in the US!) at a very low price.
Blackout Faux Wood Blinds For Redwood City Bedrooms
There are plenty of times when you'll want to keep sunlight out of a room entirely. Maybe your kids need to nap in the middle of the day? Perhaps your workplace needs to guarantee privacy, and you want to be sure no-one can see in through the windows? In these situations, blackout faux wood blinds are a perfect choice. These wood grain texture blinds feature overlapping vanes specifically to block all light passing through them. In addition to perfect light control, these faux wood window blinds can be custom-built to your precise specifications just like the rest of our products, with many beautiful options to choose from. Your bedroom needs aesthetics, but more importantly – privacy! With blackout blinds made from faux wood, you get both qualities in one window cover.
Greatest Deals On Redwood City Faux Wood Blinds
We build beautiful custom faux wood blinds out of different materials like vinyl, PVC, and more. For long-lasting beauty that you can rely on, it's important to use something of high quality. Our wood-like products won't warp or rot when exposed to moisture, and thanks to our realistic wood grain texture blinds material they'll look just like the real deal. See just how attractive our faux wood blinds look by scheduling your free consultation today. The team here at Motorized Window Shade - Redwood City will gladly provide free estimates and all the info you need.